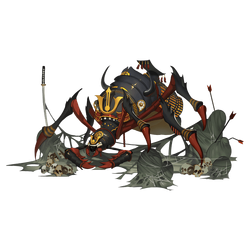 A large-scale assembly boss found in Demon Encounter.
Introduction
Once Tsuchigumo is discovered, there will be 3-5 minutes of gathering for everyone to prepare for battle, as after it begins, no one new can join. There is a minimum of 50 and a maximum of 300 people per boss. The difficulty of the battle is matched with the number of people participating, and low-level players will not increase the difficulty. The boss stays for 20 minutes and escapes after that if players fail to defeat it.
Format
Once the battle is entered, players are transported to a gathering place to read the biography, and access Onmyoudou and Shikigami Records. Battle begins at the end of the countdown.
There are 2 stages to the boss battle itself.
Stage 1
Tsuchigumo's limbs must be attacked to weaken it.
Stage 2
Tsuchigumo summons 4 smaller spiders and a secret treasure paper doll.
Boss
Attributes
Attributes and thus difficulty scales with the number of participants. HP seems to be able to vary between from 30m to 60m.
Skills

Poison Web (毒丝/毒の糸)
Type: Normal Onibi:

0 Cooldown: 0
---
Tsuchigumo spits a ball of poisonous web at a single target dealing damage equal to 100% of its attack. Has a chance to inflict poison that deals damage equal to 10% of its attack, lasts for 5 turns and can be stacked 3 times.

Web of Snare(天罗地网/天羅地網)
Type: Special Onibi:

3 Cooldown: 0
---
Tsuchigumo casts a spider web at all enemies dealing damage equal to 85% of its attack, inflicts poison and decreases

speed by 20, lasts for 1 turn. Also has a 35% chance to reduce move bar for enemies by 50%.
Rewards
Secret Treasure
There are chances of getting:
current world amulet
mystery amulet
white daruma
blue daruma
stamina
Hyakki Yakou ticket
Kekkai Toppa ticket
Challenge ticket
Victory
There are chances of getting:
jades
Ryou orders
black daruma
four-star white daruma
Onibiyaki kekkai card
Personal orders
Stamina
Notes
Illusionary realm effect of some shikigami are less pronounced, but the effects are still there.