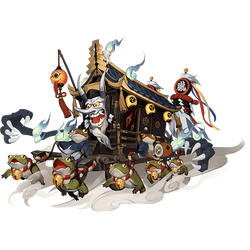 A large-scale assembly boss found in Demon Encounter.
Introduction
Once Oboroguruma is discovered, there will be 3-6 minutes of gathering for everyone to prepare for battle, as after it begins, no one new can join. There is a minimum of 25 and maximum of 300 people per boss. The difficulty of the battle is matched with the number of people participating, and low-level players will not increase the difficulty. The boss stays for 20 minutes and escapes after that if players fail to defeat it.
Format
Once the battle is entered, players are transported to a gathering place to read the biography, and access Onmyoudou and Shikigami Records. Battle begins at the end of the countdown.
There are 3 stages to the boss battle itself.
Stage 1
Oboroguruma summons gekota every 3 turns, and players can attack either. Some of the gekota will give hints to the next stage in the form of a bubble with an expression above their heads.
Stage 2
When Oboroguruma loses part of health, it summons elite gekota and then retreats. Only one elite gekota (the one hinted in the first stage) needs to be KO'd to enter the next stage. As turns increase, the elite gekota will enter a berserk state.
When the leader gekota is KO'd, stage 1 repeats.
Stage 3
After the end the repeat of stage 1, if Oboroguruma's health is below 60% it will enter the repair stage, and here Oboroguruma can turn players into gekota.
The repairs can be interrupted, and doing so gives rewards from secret treasure paper dolls in a short 4th stage. If the repairs are completed, stage 2 repeats.
Boss
Attributes
Attributes and thus difficulty scales with the number of participants. HP seems to be able to vary between from 30m to 60m.
Skills
Skills for stage 1.

Croak: Summoning (呱招来·临/カエル招来)
Type: Special Onibi:

0 Cooldown: 0
---
Oboroguruma summons a group of gekota every 3 turns, and one of the gekota will have a special expression, this special gekota will become the elite gekota general in stage 2.
Skills for stage 2.
Skills for stage 3.
Skills for secret treasure and 4th stage.
Note: The gekota just do the equivalent of normal attack, and the elite gekota basically use copies of the SSR they emulate.
Rewards
There are 3 types of rewards: gold, secret treasure, and victory rewards. Gold and victory rewards are given through mail, while secret treasure is instantaneous at the end of battle.
Gold is given dealing damage to the boss, the higher the damage to more the gold, with a cap of 60k gold. The secret treasure gives random rewards. The victory rewards are given if at least 30k damage is contributed, and distributed according to the rating. There are team and personal ratings and team uses time while personal uses points:
| Points | Rating |
| --- | --- |
| 3500+ | |
| 3000-3499 | |
| 2500-2999 | |
| 2000-2499 | |
| 0-1999 (and successfully killed) | |
| Fail to kill | |
Secret Treasure
There are chances of getting:
current world amulet
mystery amulet
white daruma
blue daruma
stamina
Hyakki Yakou ticket
Kekkai Toppa ticket
Challenge ticket
Victory
There are chances of getting:
Oboroguruma kekkai card
Ryou orders
black daruma
four-star white daruma
Onibiyaki kekkai card
Personal orders
Stamina
Biography
Notes
Illusionary realm effect of some shikigami are less pronounced, but the effects are still there